Here Alessandria, here Como: today the Ghisallo Museum with the Museum Alessandria Città delle Biciclette remembers Gino Bartali and does it with two correspondents twinned by the memory of Ginettaccio. Massimo Moscardi, special (and virtual) correspondent, gives us a contribution from Corriere di Como, while Beppe Giuliano Monighini beats his Lettera 32 from Alessandria, our historical homeland of cycling. So born a double memory for Ginettaccio that remains a great example for all of us!
QUIAlessandria | Ginettaccio twenty years later [Letter 32] from Corriere Al signed by @BeppeGiulianoMonighini
Gino Bartali died in 2000, on a Friday in May, the month of Our Lady (it could not be otherwise for such a devout Catholic). On the 5th, the day we remember for Manzoni's poem about another illustrious person who died on the same date. Ginettaccio, as he was called, survived for forty years by his mythical twin: Coppi-e-Bartali always (always!) said so. Fausto was the first with his blue jersey, ahead, even and too much so at the last finish line, he arrived there in fact a good forty years earlier, it was just January 1960. He must have felt lonely for such a long time without his rival, whom he loved very much in return.
Gino behind struggling, grumbling, pushed by such a big heart that he saved hundreds of Jews during the war, but we will only know this after his death, he did not want to brag, it was his upbringing.
"Good is done, but not said. And certain medals hang on the soul, not on the jacket."
All we needed to know about Ginettaccio, alive, was the races he won, the Tour of 1948 with Italy just a stone's throw away from exploding, and the fact that he was the one who saved it is a fine novel.
Go on... https://mag.corriereal.info/wordpress/2020/05/04/ginettaccio-ventanni-dopo-lettera-32/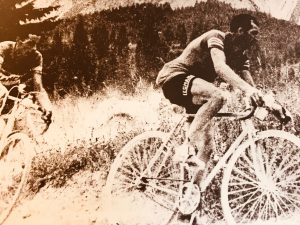 #QUIComo | Gino Bartali and the Ghisallo, a story of devotion. The memory on the 20th anniversary of the death of the Tuscan champion. From Corriere di Como signed by @MassimoMoscardi
A character who was very attached to Ghisallo and his Sanctuary. A myth of sport that disappeared on May 5, 2000: Tuesday will be the 20th anniversary. Gino Bartali was a great cyclist, but not only. He is remembered, in fact, also as Righteous Among Nations for having been part of an organization that during the Second World War in Tuscany saved local Jews and refugees. Bartali hid important documents in his bicycle. A choice that he had in common with a great man from Como, Giorgio Perlasca, also named Just who, pretending to be a Spanish diplomat in Budapest, saved over 5,000 people in this way.
Gino Bartali, as we have said, was very attached to Ghisallo, which was first the scene of his exploits as a cyclist. The champion from Ponte a Ema has three victories in his rich palmares at the Giro di Lombardia, in 1936, 1939 and 1940, which ended in Milan. In 1936 he sprinted repeatedly on the climb up to the Colle and made the selection, beating Diego Marabelli and Luigi Barral in the sprint. In 1940, however, his decisive sprint was on the ascent of Ghisallo: Bartali arrived at the finish line 4'7'' ahead of the second placed Osvaldo Bailo. A clear supremacy in a race in which his great rival, Fausto Coppi, was at the start and only finished in sixteenth place.
The Sanctuary is evoked in another story that concerns the champion: in 1948, on the eve of the Tour de France that he would later win (saving Italy from a new civil war in the days of the attempt on Palmiro Togliatti, secretary of the PCI), Bartali did not have good feelings, but during a training session he climbed Ghisallo and after a few moments of prayer he came out refreshed, ready to accomplish a new great feat. The bicycle he used on that occasion (with the number 31) is now preserved at Museo del Ciclismo in Magreglio, like the one from 1938 (with the number 13), the year of his first victory at the Tour.
Continue... https://www. corrieredicomo.it/gino-bartali-e-il-ghisallo-una-storia-di-devozione-il-ricordo-nel-20anniversario-dalla-scomparsa-del-campione-toscano/